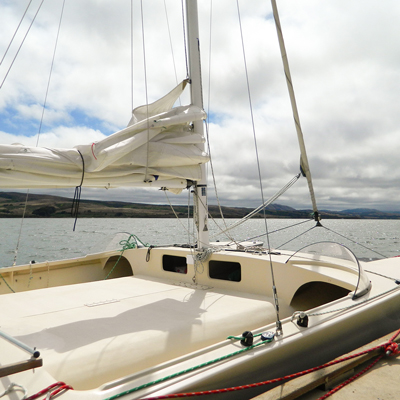 Tomcat is a 1995 Maine Cat 22; a 22 foot, moderate displacement, solid bridge deck catamaran. She was designed by the legendary naval architect Dick Newick; a pioneer of early offshore racing multihulls known for his fast and strikingly beautiful designs. With only eighteen ever built, of which Tomcat is number eight, the Maine Cat 22 is a very rare boat.
I chose her because she is ideally suited to exploring Tomales Bay. She is large enough to take six passengers, with an eight by twelve foot main deck, plus forward trampoline, yet small enough to be easily handled. Her shallow draft allows her to get close to shore and land on beaches inaccessible to larger craft.
Unlike a thoroughbred racing catamaran, the Maine Cat 22 is designed to sail flat with both hulls in the water, giving passengers a stable ride. That is not to say that she is slow however, as her long waterlines and narrow hulls allow her to achieve exhilarating speeds of over 15 knots in the right conditions.
Her Specifications
LOA 22'-0"
LWL 21'-8"
Beam 13'-0"
Draft Min. 11" Max. 2-10"
S/A

Jib 71 sq. ft.
Main 196 sq. ft.
Total 267 sq. ft.

Displacement Empty 1,100 lbs - Full 2,340 lbs
Year Built 1995
Captain: Captain Brett Miller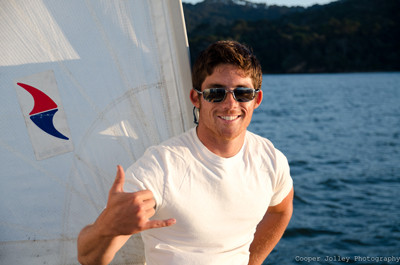 Growing up in western Marin County I spent a lot of time on the water both in Tomales Bay, where I learned how to sail nearly twenty years ago, as well as in San Francisco Bay. I started Tomales Bay Sailing because one of my favorite activities has always been taking my friends and family out on the water, and I finally decided to make a career of it.
In addition to my sailing experience I have also spent the past six years working as a sea kayaking guide and instructor on Tomales Bay. This has given me a wealth of knowledge and enthusiasm for this area including wildlife, geology, historical anecdotes and of course sailing, which I absolutely love sharing with others. I currently hold a USCG inshore OUPV license.